Texas Hold'em Chili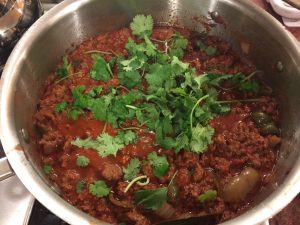 I grew up in Texas and with the fusion of Tex-Mex cuisine and after moving to New England I missed those flavors. So I decided to learn to cook the recipes I missed at home!
Ingredients:
fat of choice – olive oil, palm, oil, lard, tallow
3 pounds ground meat (can be chosen from beef, bison, veal, chicken, turkey, pork, etc.) – use a variety for better nutrition
half pound ground liver (optional)
2 pounds bell peppers
1-2 cups diced onions
garlic/scapes
3-4 bay leaves
24 oz diced/stewed/crushed tomatoes
chili paste (optional)
1 quart broth (optional) for more nutrition or liquid
1-1.5 tsp sea salt & sea veggies baseline more added after cooking to taste
1-3 TBSP Spicely Mexican Seasoning – paprika, garlic, pepper, oregano, onion, cumin & chili ancho
Use fat to saute bell peppers, then brown meat, and add diced tomatoes &  seasoning – paprika, garlic, pepper, oregano, onion, cumin & chili ancho
Add tomato paste and tomatoes. Add broth and bring to a boil. Lower the heat to low, cover, and simmer about 10-15 minutes until meat done. Add cilantro.
Can be done in Slow Cooker without sautéing by combining all ingredients
Serve with any combo of  salsa, sour cream, chopped scallions, pork rinds/plantain chips for a crunch, or white rice for starch.
If you tolerate dairy you can sprinkle some shredded raw-grass fed cheddar and/or a teaspoon of cultured grass fed sour cream on your chili!